Club Maroochy has a business plan that is revised annually to outline the goals and endeavours for each year.
The club's culture is based around clarity and aims to define, prioritise, develop, implement and review.
The Board is fully committed to its support of the Business Plan. There are good systems and controls in place.
Vision Statement – Club Maroochy will become a leading bowls/community club on the Sunshine Coast.
Join as a Social Member and you will be part of a thriving local/social community that fulfils the goal of our vision. It expresses the ethos and policy of the Club in relation to all members and guests.
To join as a full member (Bowling Member) you become part of the most welcoming and encouraging environments available to you anywhere on the Sunshine Coast. We are not at all biased but we have been told that we have one of the best clubs in Australia.
The Club is managed by an elected Board who work with the Administration Manager and Bar/Gaming Manager in overseeing the operations of the Club.
The Club operates  in accordance with our Constitution & By-Laws which are amended from time to time, as required to reflect changes in Law & operational requirements.
The Club is a community based organisation with lawn bowls as it's core sporting activity. The constitution is under the auspices of the Qld Office of Fair Trading.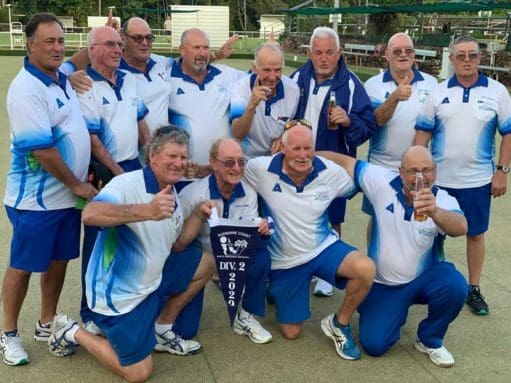 You've tried our great game during barefoot or corporate bowls events and now you want to get serious about the game.  Perhaps you've had a bit of coaching from one of our dedicated team and you've discovered our well-kept secret – that lawn bowls is a challenging, competitive game that can quickly become an addiction as well as an enormously satisfying and enjoyable sport – and not just for the "oldies".
Or you are one of the "oldies" who want to keep active and try a new challenge.  Perhaps you've been a golfer or tennis player and the physical aspects of those sports is too much of a challenge – then bowls is the game for you.
Whether you just want to have a weekly friendly game with good friends or you want to challenge yourself, practice and become as good as you can be, then this sport offers it all.  Enjoy good companionship with great people in a friendly club environment – and at very affordable prices by today's standards.
Classes of Membership  

–  

Summary from Constitution: –
Bowls Members:  They shall be entitled to all the privileges of the Club and shall be entitled to be present, debate and vote at General Meetings of the Club.

Bowls Dual Members: A person may be a dual member (i.e. a member of more than one (1) club) provided they satisfy the criteria set out by Club By-Laws.
A dual member is NOT entitled to all the rights and privileges of a Bowls Member.

Life Members:  A member who has rendered exceptional service to the Club.  They shall be entitled to all the privileges of Bowls Members.

Junior Members:  Persons under the age of 18 years. They shall not be permitted (under any circumstances) to be sold, supplied or allowed to consume alcohol or tobacco products on Club premises, or engage in any form of gaming activities.

Temporary Members:  A person who meets the following criteria may apply for temporary membership of the Club: 

Is an Interstate visitor; an intrastate visitor; or an overseas visitor.
Is a financial member (in good standing) of a Bowls Club or Bowls Authority; affiliated with  BA or WB.
Temporary members may participate in organised social bowls but may not take part in any Inter-Club matches or club championships.

Social Members: Social Members

may not take part

in the Game of Lawn Bowls within the Club unless invited on a special occasion such as a bowls promotion.
Membership qualifications and eligibility are governed by the Constitution & By-Laws.
Mon:
10am – 8pm
Tues – Thurs:
10am – 10pm
Fri – Sat:
10am – 10pm*
Sun:
11am – 8pm
*Extended hours to midnight available.
**Public holidays may vary.
MINIMUM STANDARD OF DRESS FOR ENTRY TO CLUB
Clean and tidy casual attire.
Footwear must be worn at all times (thongs permitted)
The following are not allowed to be worn:
Football Shorts
Sports, Dirty Work or Revealing Singlets
Swimwear, Bike Shorts or Leotards
Stained, torn, dirty, ripped or excessively frayed clothing
Clothing with obscene or offensive slogans or pictures
Training Apparel
Work Overalls (after 7 pm)
NO levels of personal hygiene which are offensive to others
The Management reserve the right to refuse entry to anyone deemed to be not suitably attired.
Thank you for respecting our Dress Code.
A SHORT HISTORY OF OUR FORMER CLUBS
The Maroochydore Beach Bowls Club (Inc)
The club was founded in 1938 when the Trustees of the Recreation Ground Cotton Tree granted land for one green and a clubhouse with an annual rent of one pound.
The first President of the club was Mr J McIntyre and the actual name of the club was "The Maroochydore Mooloolaba Bowling Club".
In 1946 the Ladies Bowling Club was formed.  The first Ladies President was Mrs Smith who held the position for two years.
In 1959 the club was granted additional land for a second green and changed its name to the Maroochydore Beach Bowling Club in the same year.  In 1964 number one green was moved 10 feet to the west to allow for the widening of Sixth Avenue and a third green was added in 1974.
There have been a number of extensions to the clubhouse over the years with the major ones occurring in 1959,1969, 1982 and during the mid 1990s which included the installation of air conditioning and pokie machines.  The club was incorporated in 1993.
The Maroochy Swan Bowls Club (inc)
The historical records of the Maroochy Swan Bowls Club are not readily to hand so currently information is sketchy about the origins of the club. 
We are indebted to Charlie Arbouin for his recollections about the early days.  He tells us that Mr Tom Rose, who became the inaugural President in 1936, donated the land for the club.  It seems the club was initially known as the Maroochydore Bowling Club – at least that's what is shown on the front cover of the members roll book for 1936 to 1969, which has somehow survived the passage of time.  Tom Rose's name appears in the roll book up until 1954-55.
The roll book shows that there were 24 inaugural members in 1936 and that the membership grew slowly over the years so that by 1951 the roll was 37 members and by 1968-69 the roll had grown to 121.
The club initially must have had 2 greens and 2 houses were purchased at some point to make way for a third green.
Find us at:
23 Memorial Ave,
Cotton Tree, QLD 4558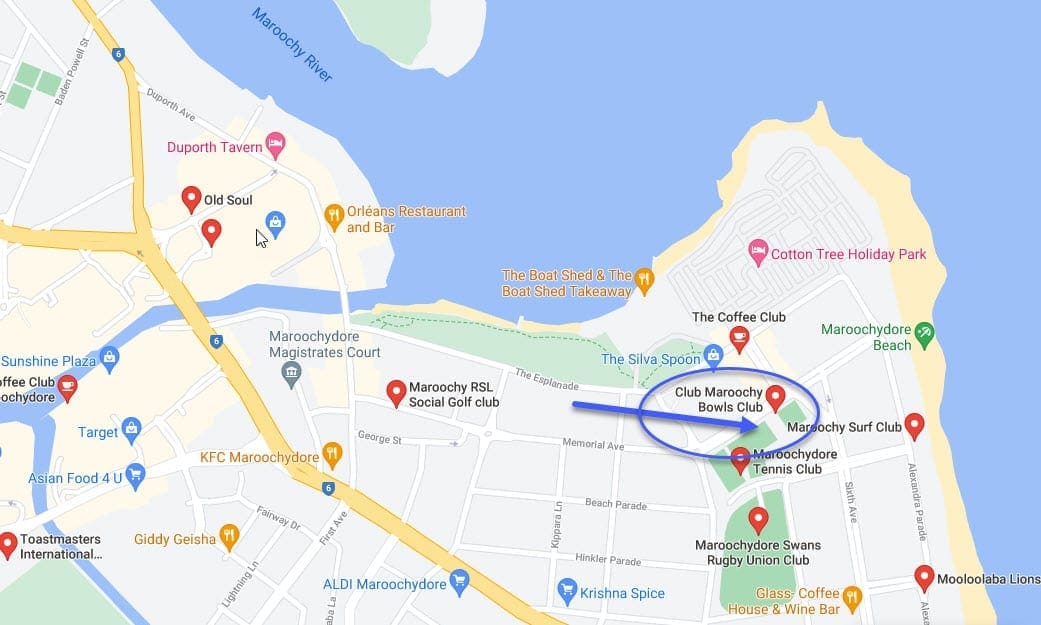 Thanks to our following sponsors for their support.